Sky View Nursing Center, a 33-bed nursing facility in Hurley, Wisconsin, is ready to meet your healthcare needs. You will feel at home the minute you enter our front doors. Our highly trained staff provides outstanding care and warm hospitality throughout your stay.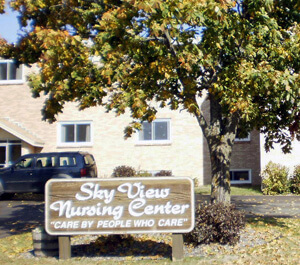 Services Provided
Sky View Nursing Center provides 24-hour nursing services and Alzheimer's/Dementia care. Our care staff includes Registered and Licensed Practical Nurses, Certified Nursing Assistants, Social Services and activities personnel.
Our remarkable staff-to-resident ratio ensures that residents receive the attention and care they need, and is notably one of the highest among nursing facilities in the State.
From admission to discharge planning, we provide comprehensive care services that address each resident's dietary, physical, emotional, and wellness needs.
Upon admission, depending upon availability, you may have an option between a private or semi-private room. Most rooms have beautiful views of the grounds providing opportunities to watch abundant wildlife.
Amenities
Amenities include a beautiful dining room, outdoor patio area, and a spacious activity room.
Residents living at Sky View Nursing Center enjoy delicious homemade meals and snacks. Special diets as prescribed by a physician are easily accommodated. Housekeeping and laundry services are provided daily.
Social Activities
Numerous activities such as bingo, church services, sing-a-longs and other special events provide life-enriching opportunities for those who call Sky View Nursing Center home. Community volunteers are always welcome to assist with any of our many programs.
Accepted Payment Sources
Sky View Nursing Center accepts Medicaid, insurance and private pay. Admissions are accepted seven (7) days a week.
For More Information or a Personal Tour
To learn more about Sky View Nursing Center, or to arrange for a personal tour, please call (715) 561-5646 today!

SKY VIEW NURSING CENTER
309 Iron Street
Hurley, WI 54534
(715) 561-5646